That's our promise, we deliver the taste of Coorg to your doorstep. What's so special about the taste of Coorg, you might ask? Well… some of the world's best coffee honey and pepper is grown here.
But how? You might wonder. It is the nature of the soil and how it nourishes the plants and trees; the heavy rain and thick mist; the mild cheerful sunlight; the purity of the air and water and the serenity of the forests that cover these hills.
In the estates that cover these breathtaking slopes you will find, besides coffee bushes and pepper vines…mandarin oranges, sweet lime, passion fruit, bird's eye chillis, and jungle mangos which the parakeets love.
Explore further and you will discover bamboo shoot which makes delicious curries and pickles, garcinia which goes into making kachampuli (a legendary ingredient in the famous pandhi curry, or Coorg pork curry), and boxes with bee colonies that slowly create a light, gold-coloured honey with an incredibly wild tang to it.
Visit our online store to see what kinds of products are on sale! Order before noon and receive the package the next day!
We intend to provide the best of Coorg's agro products to your doorstep.
Wholesome, pure and authentic tasting delicacies prepared with care and concern for health and hygiene. Our sources are handpicked and their offerings are regularly tested by us for quality in taste and integrity of packaging.
Coffee powders which include pure Arabica, or pure Robusta (with and without chicory), and blends of both the above varieties; Packed to hold their freshness till they reach your kitchens and the aroma sails around the living room every morning.
Squashes made of fresh lime, sweet lime, oranges, and passion fruit.
Rice varieties grown in these highlands.
Pickles of lime, bamboo shoot.
Spices – black pepper corns, clove, cardamom, cinnamon and turmeric powder. 
Snacks, well packaged munchies that are full of flavour.  Chakuli, kodbale and nippatu.
We source our products directly from local farmers and their cottage industries in Coorg.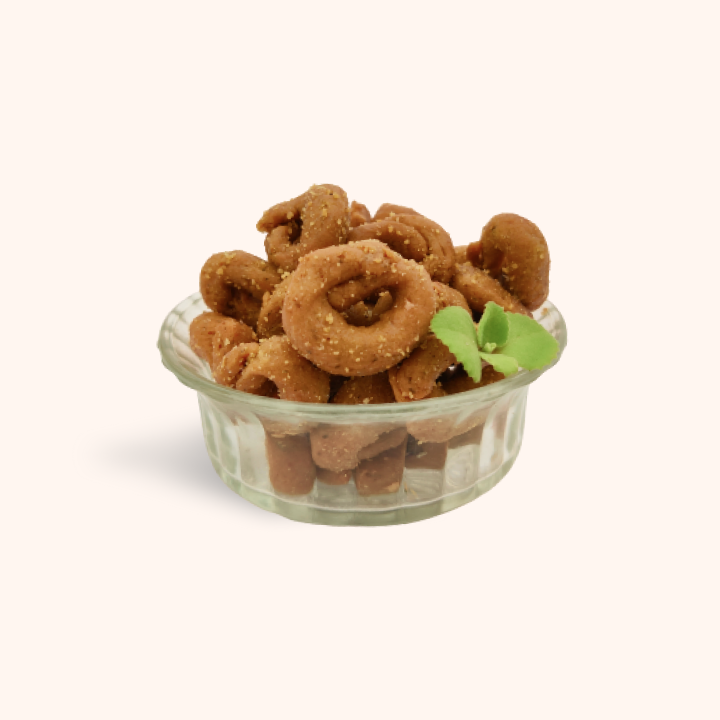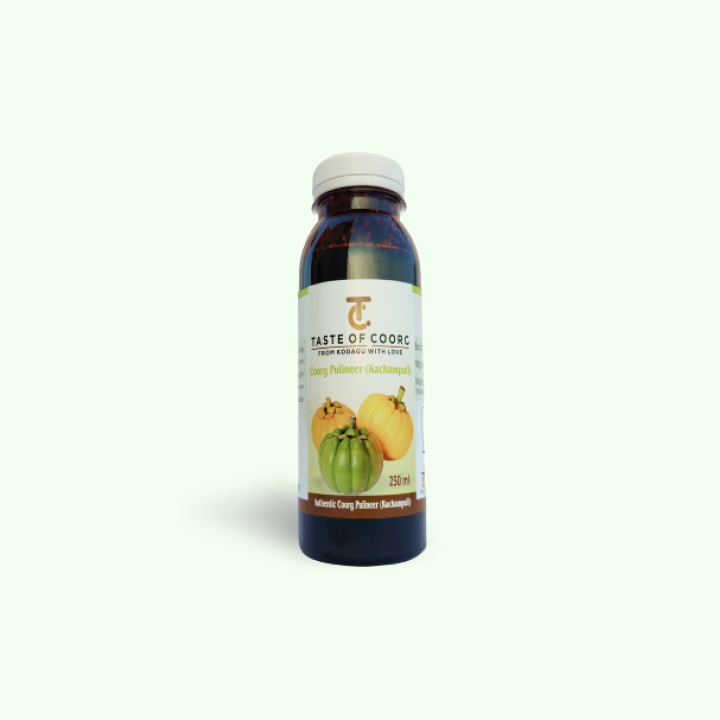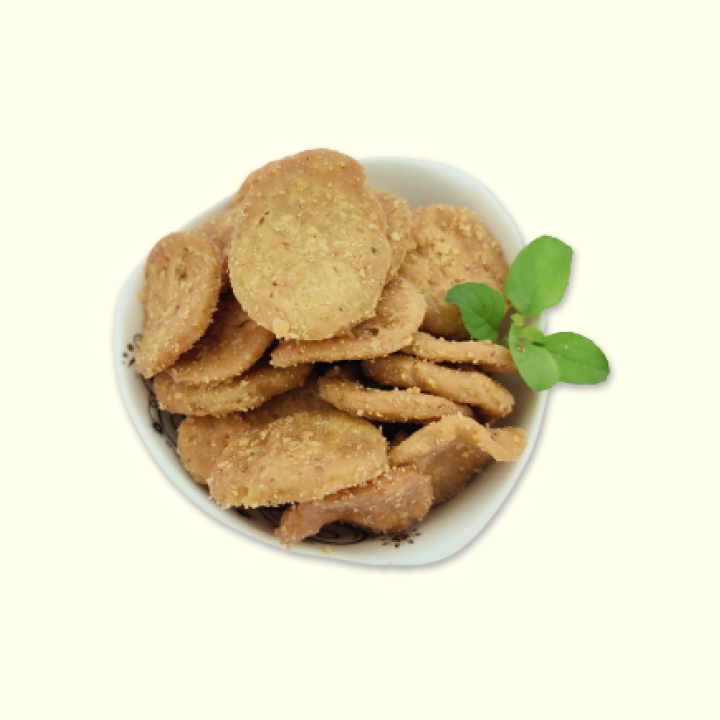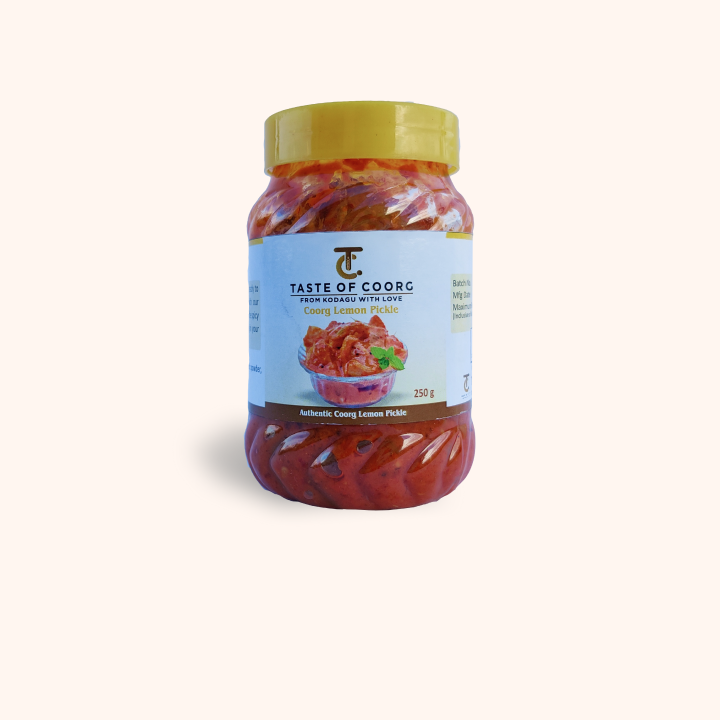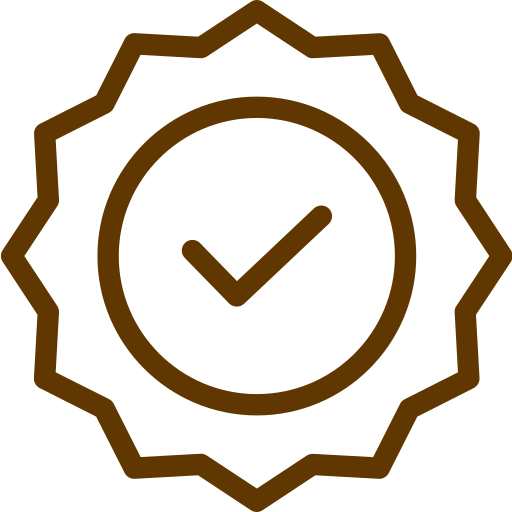 Taste of Coorg brings you authentic products from the land of the Kodavas, all checked for quality and purity.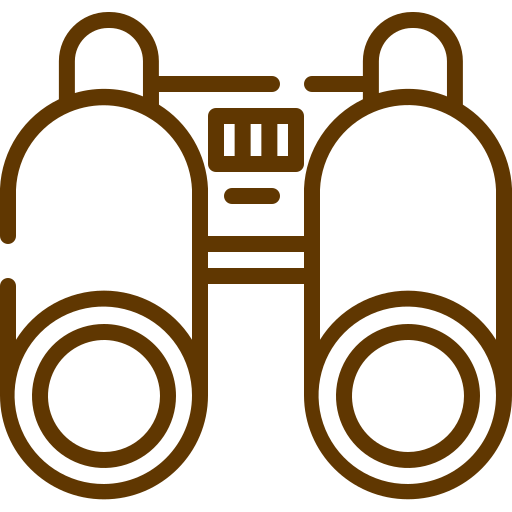 In the day and age where the world is in the search of a fitter alternatives, Coorg's very own productions such as spices, Honey, Kachampuli etc can prove out to be a boon to the society.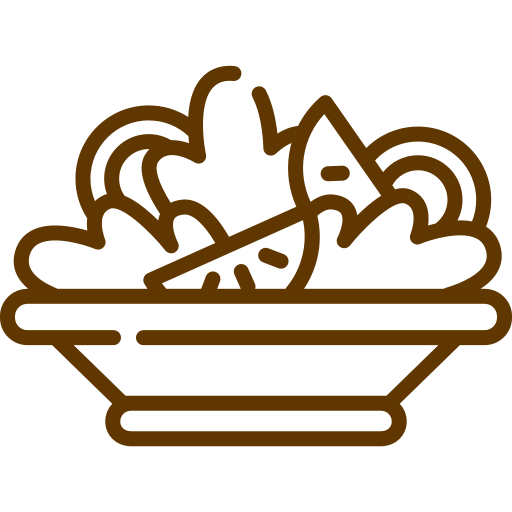 In a race like world, mass distribution results in heavy profits and often lower quality. Contrary to that, Taste of Coorg focuses on providing you nothing but the best.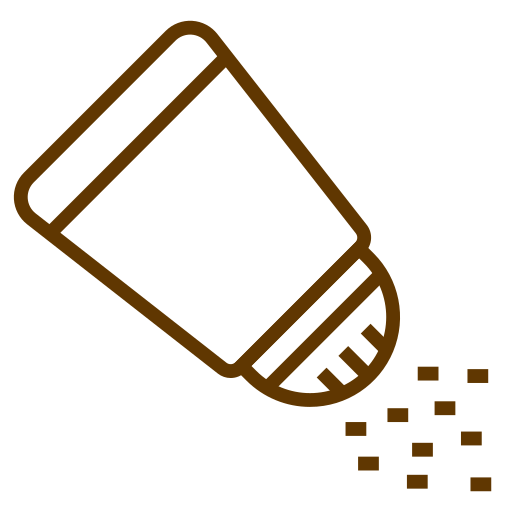 Bringing back the forgotten flavour
Remember the sweet smell of our grandma's kitchen? A smell that slowly faded away as we moved on from the local products to the bigger western brands. Taste of Coorg is all set to bring all of that back with Coorg's special rice (Jeerige sanna), Sambhrani Powder, Kaipuli squash and more.